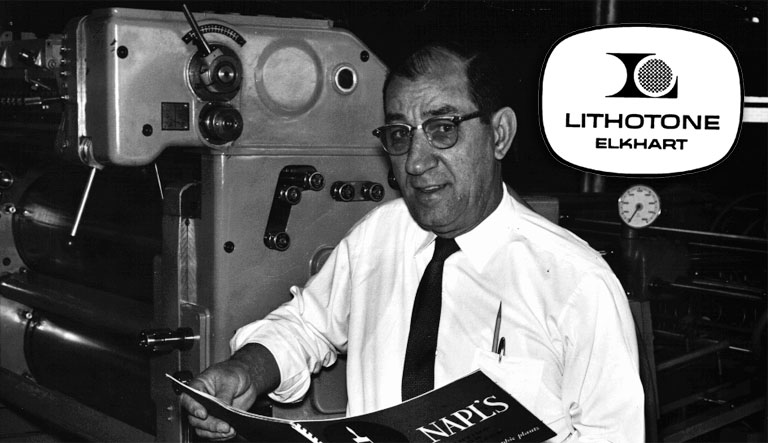 The Origins and Historical Significance of Lithotone
The year was 1962. The United States and its newly-created NASA agency made history by putting the first human in space. Dreams and goals for manned space travel began that year with the successful Mercury-Atlas 6 flight. But those weren't the only dreams realized in 1962.
Printing veterans Ken Priebe and Jim Powell resigned from a large printing company and founded Lithotone in 1962. Their goal was to offer more value, service and quality – all characteristics they thought were missing from the industry. Beyond merely printing, packaging and shipping a product; their vision was to give more effort, more creativity, more efficiency. Cornerstones of that philosophy included staying ahead of the fast-changing technology curve. They were determined to exceed a customer's expectation!
Priebe brought expertise in finance and production, while Powell had exceptional graphic design skills. Both had ideas about how to build a better operation, deeply rooted in high-quality service and innovation. Along with Rawson Murdock, Lionel Micinski, Don Plotner and Chuck Eaton; Lithotone merged diverse skill sets to establish a reputation of having a highly collaborative working environment. Lithotone's distinction quickly spread allowing the team to establish relationships with an interestingly diverse and demanding list of clientele.
Today, Lithotone employees and associates fulfill the business goals and operating philosophies. This technology-driven company, over the years, was among the first to install a 40-inch, four-color press; high-end waterless printing technology; direct-to-plate and automatic make-ready processes; saddle stitching; and closed-loop color control. As technology advances, the need to remain innovative continues. And Lithotone is not afraid to take it out there.
Lithotone launched in 1962 in Elkhart, IN, USA, Planet Earth.
Lithotone worked with companies like Bayer, Selmer, Notre Dame, Goodyear in the early days.
Was the first Web printer in the region and offered quality sheet-fed printing, too.
From the beginning, Lithotone focused on quality and service.
A debt-free company from the beginning and continues today.
First entirely waterless press to be installed in the USA!
No layoffs. Lithotone has never had a layoff (1962 to date).
Our technological and financial commitment to the future keeps us relevant and on the edge.
100% employee owned since 1962. Each employee-owner cares about your success.
Today Lithotone is a fourth-generation, successful family and employee-owned business.